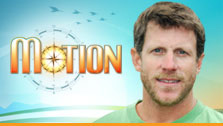 Motion
is a great show that features (mainly) hiking spots around the US (even some in the Caribbean). The show started out covering hikes around Northern California - but has really expanded to cover everything from Alaska to Hawaii to upstate New York and even the US Virgin Islands.
The show has amazing video of great views, waterfalls and vistas from a number of Western US locations - including the Olympic Peninsula,
Big Island of Hawaii
and
Kenai Fjords Glacier
.
Unlike most outdoor shows on TV, Motion does a really great job of showing the hiking route as well as providing some tips on accessing the trail. While other shows can gloss over the details the host,
Greg Aiello
does a nice job of providing some really useful hiking information.
This is the best hiking show on TV in my book. The format is informative and inspiring - without getting too fluffy or preachy. Recent episodes have even featured "fans" of the show joining Greg on some of the best hikes around the US.
For those that have seen the show, be sure to catch the
Behind the Scenes episode
!
Congrats to Greg and his brother for the shows continues success over the years (I first found it in 2008!) and keeping it true to hiking and enjoying the outdoors.
Motion
is carried on the LiveWell Network:
Bay Area - HD channel 7.2/ Comcast 715
Seattle Area - HD channel 5.3/ Comcast 115
You can
watch most episodes
online at the
Motion page
of Livewellnetwork.com
A scene from Yosemite Falls - Over the Edge
rev Dec 2012